Online Discussion: War on Ukraine – Agricultural Implications for the EU and International Markets
07. März 2022
Online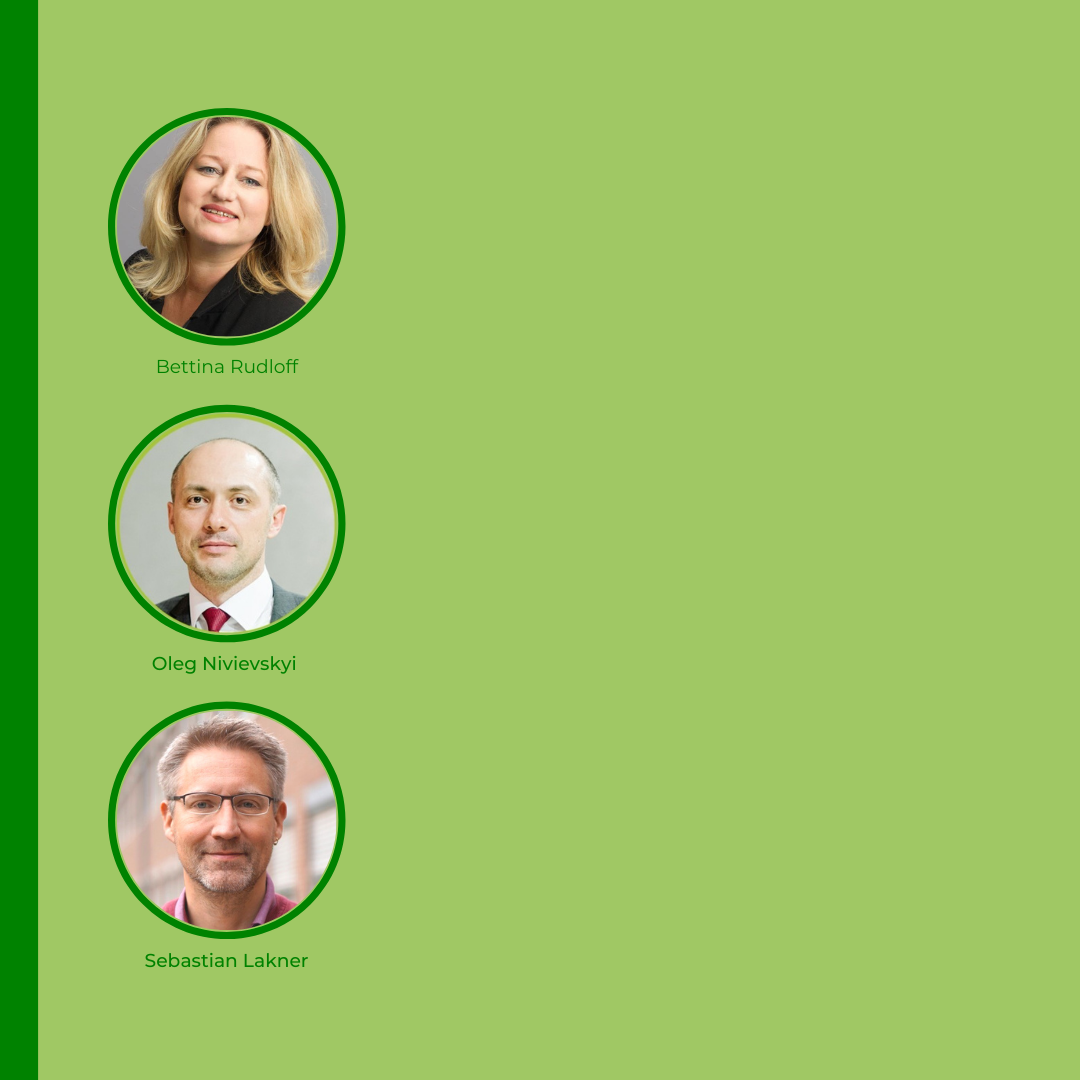 Putin's war of aggression on Ukraine not only puts security and energy issues at the centre of the political agenda, its implications go far beyond. Together with Dr. Bettina Rudloff, Prof. Dr. Oleg Nivievskyi, Prof. Dr. Sebastian Lakner and Dr. Alex Lissitsa I discussed agricultural and food policy consequences of the current situation for Ukraine, the EU and beyond.
Dr. Bettina Rudloff, agricultural engineer and economist, is working as Senior Associate at the German Institute for International and Security Affairs (SWP).
Prof. Dr. Oleg Nivievskyi is an agricultural economist and Vice President of Economic Education at Kyiv School of Economics.
Prof. Dr. Sebastian Lakner is an agricultural economist and Head of the Chair of Agricultural Economics at the University of Rostock, Germany.
Dr. Alex Lissitsa, agricultural economist, is presidium member of the Ukrainian Agribusiness Club and CEO of the agribusiness IMC.
In order to better understand how the unfolding war is affecting Ukrainian agriculture, Oleg Nivievskyi and Alex Lissitsa gave an impressive account of the devastating extent of changing realities on the ground in Ukraine since February 24. Food security in certain regions is already at extreme risk and there has been substantial damage to agricultural infrastructure. Against this background, the cultivation scheduled to start at the beginning of March will not be carried out in most parts of Ukraine. This leads to a situation in which – even if the extent of this cannot be precisely estimated right now – it is clear that agricultural production in Ukraine will decrease significantly.
Taking into account that Ukraine is a key figure in the global agricultural market, in particular as exporter of wheat, the war will therefore have implications on global food security both in short and medium term. The effects of the sanctions against the Russian regime provide additional tension. While a sound assessment of the extent of the associated consequences is not yet possible, Bettina Rudloff demonstrated the situation's seriousness on the basis of various indicators and explained that it is countries in Northern Africa and the Middle East that will be particularly affected due to their dependency from Ukrainian and Russian imports. In concrete terms, this means a danger of hunger crises for many countries, whereas the direct consequence within the EU will primarily be higher food prices.
Against this background, the panelists emphasized the necessity to discuss fast, efficient and internationally coordinated reactions by the EU to tackle these consequences – despite of the political costs these measures may have. Avoiding export restrictions, which are counterproductive from a global food security perspective, is of central importance here. As Sebastian Lakner described, other possible options include blending of mineral fuel with biodiesel/bioethanol, limit feedstuff for meat production in order to shift resources to nutrition as well as temporary openings of fallow land for production. It is thereby imperative to also discuss the ecological consequences of these measures. Beyond the EU, according to Bettina Rudloff, Germany's current G7-presidency should now become an important forum to stress the topic of global food security and to coordinate international food aid. These efforts need to include the voices of the most vulnerable countries affected, which although connected by their dependencies on agricultural imports have different needs.
The discussion showed the importance of raising awareness on the agricultural implications of Putin's invasion of Ukraine and thereby making explicit the war's international dimension. Nevertheless, the panelists agreed that eventually, neither the war itself nor its discussed agricultural implications can be solved only by agricultural policy measures. Therefore, far-reaching and immediate support for Ukraine by the EU beyond this is inevitable.