Relations at the Boiling Point: Navigating the Kosovo-Serbia Stalemate Post-Banjska Attack
02. Oktober 2023
online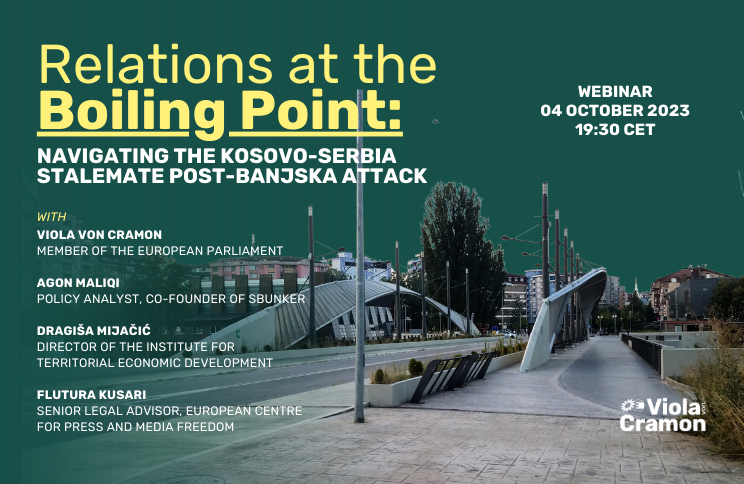 Although it seemed that the Russia's war on Ukraine could accelerate the resolution of this issue due to Western actors' need to prevent the further expansion of Russian influence in the region, not much progress has been made. Moreover, the recent Banjska attack in the north of Kosovo has added a new layer of tension to an already intricate relationship, and understanding its implications is crucial for shaping the future of the Serbia-Kosovo relations.
With the panel of distinguished speakers, I will discuss the evolving dynamics in the EU-led Brussels Dialogue, Serbia-Kosovo relations since the withdrawal of Serbs in the north from state institutions and potential pathways for resolution, including the role of international actors.
What are the internal dynamics of the relationship between the Albanian and Serbian communities in Kosovo?
What are the potential scenarios for the continuation of the Brussels Dialogue?
Are the Brussels and Ohrid agreements still on the table?
What conditions should be met for peace to be possible?
Where to after the attack on Kosovo Police in Banjska?
Panelists:
• Agon MALIQI, Policy Analyst, Co-Founder of Sbunker
• Dragiša MIJAČIĆ, Executive Director of the Institute for Territorial Economic Development and Coordinator for Chapter 35 on Kosovo-Serbia Dialogue of the Serbian National Convention on the European Union
• Flutura KUSARI, Senior Legal Advisor, European Centre for Press and Media Freedom
Join us on Wednesday, 4 October, at 19.30h to engage in this important conversation and contribute to the much needed discussion between Serbian and Kosovan societies.