Serbia needs to stop glorifying convicted war criminals
10. November 2021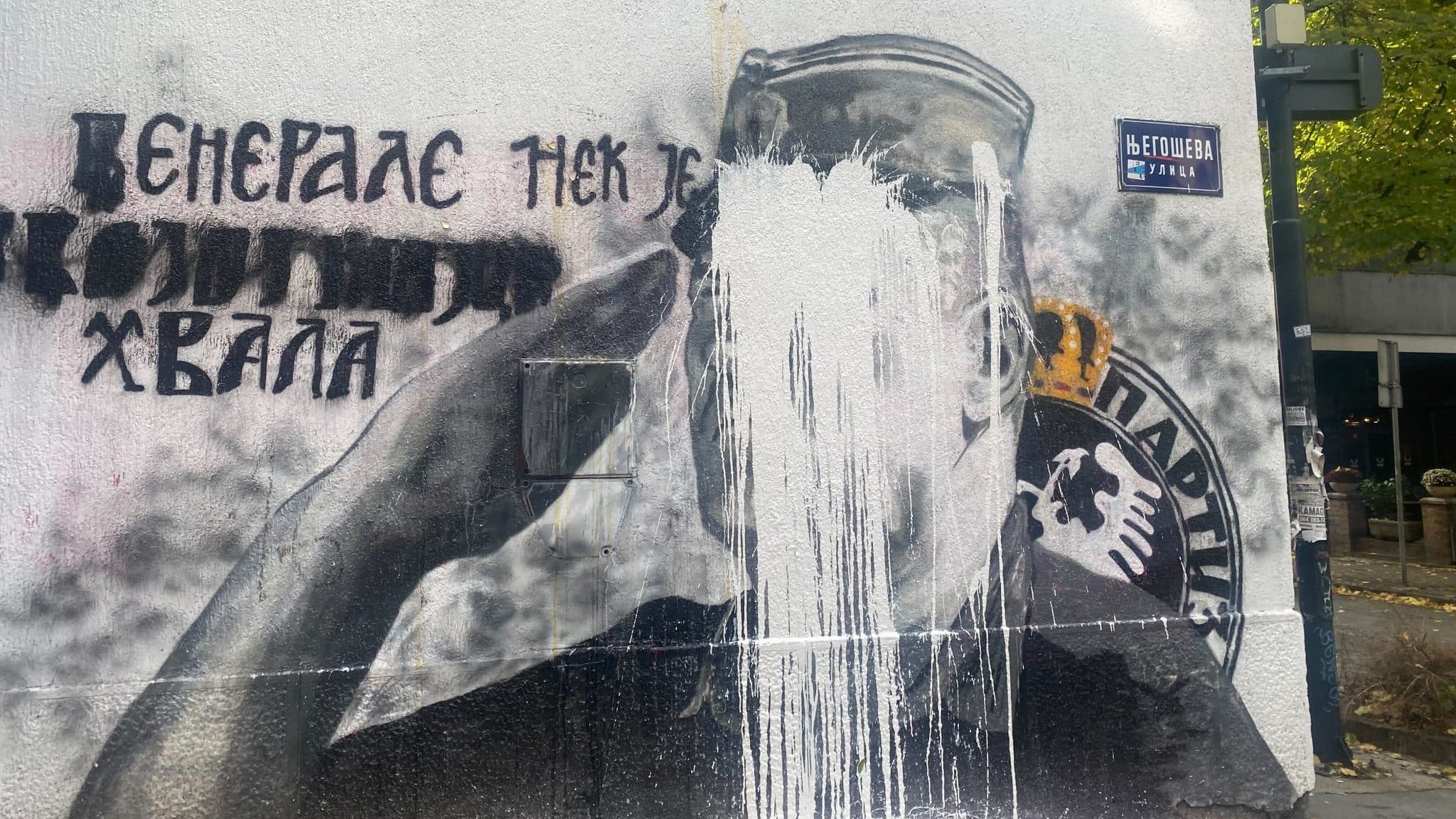 Murals of Ratko Mladić, Bosnian Serb general convicted for war crimes in Bosnia and Herzegovina and genocide in Srebrenica before the International Criminal Tribunal for the former Yugoslavia (ICTY), and the likes of him are all around Serbia. One of the murals of Mladić that was painted months ago in the centre of Belgrade was about to be removed but the Serbian police prevented it yesterday.
While the group of human rights activists led by the Youth Initiative for Human Rights announced its removal on 9 November, International Day against Fascism and Antisemitism, the Serbian Ministry of Interior banned the gathering. The activists nevertheless gathered to demonstrate against the mural that was protected by the police, which led to escalation and arrest of two brave activists.
The defence of the mural is another example of what the Government of Serbia and President Vučić think of reconciliation, the rule of law, democracy and regional cooperation. Once more, Serbian authorities and Serbian highest political officials have blatantly demonstrated that they do not respect international justice and its judgments, nor the victims of the Yugoslav wars.
It is utterly unacceptable for an EU candidate country to deploy its police in order to protect a mural of convicted war criminal, who is directly responsible for atrocities and mass killings in and around Srebrenica in July 1995, thus directly contributing to the re-traumatisation of the victims.
We urge Serbian authorities to stop denying the Srebrenica genocide and glorifying convicted war criminals as it goes against all European and universal values of fundamental and human Rights.
Serbian citizens deserve to live in a country whose government shows respect for victims and human rights, not one that protects war criminals' murals.

Viola von Cramon-Taubadel, Greens/EFA
Klemen Grošelj, Renew Europe
Tineke Strik, Greens/EFA
Romeo Franz, Greens/EFA
Andreas Schieder, S&D
Gwendoline Delbos-Corfield, Greens/EFA
Tonino Picula, S&D
Irena Joveva, Renew Europe
Dietmar Köster, S&D